He asks me every couple of months or so. "Mommy, where is your favorite place on earth?"
Noah and Brad share the same favorite place: up at the cabin on the north shore of Minnesota's Lake Superior, where the lupine bloom in pastel waves and the birch trees peel papery and the air blows chilled off the water. Noah even has a specific spot in his special place: a mossy mound, surrounded by a forest of birch. He sits on a log dotted with red mushrooms, quiet behind a screen of lush ferns.
The boys are always disappointed when I tell them I don't have one special place. "I haven't found it yet," I answer. "I'm still looking." This worries them. "Think harder," Rowan urges. His special place is down in the Florida Keys, where he fishes for snapper lurking under the gnarled mangrove.
I've been looking for my place for several years now, ever since I read Desert Solitaire, by naturalist Edward Abbey. "Every man, every woman, carries in heart and mind the image of the ideal place," writes Abbey in the opening paragraph, "the right place, the one true home, known or unknown, actual or visionary."
I want that, I thought when I read those lines. I want a right place, a one true home, a place where I feel wholly at home, wholly content, wholly me. And I don't just want the vision of an ideal place. I want an actual place.
This weekend, after years of looking, I finally found my place. Turns out, I didn't have to look far. "This is my place," I announce to Noah and Brad on Saturday evening, as the setting sun glows over the backyard.
"What do you mean?" Noah asks. "Right here? Like, the backyard?"
"Yup, right here," I say, nodding and sweeping my arm toward the grass. "Sitting in my lounge chair, watching the cardinals, listening to the cheers at the ballgame across the field. Right here."
"Well, all right, it's your place I guess. You can choose wherever you want," Noah says, looking askance at the chipped table and sun-faded umbrella.
What I realized as I sat on the back patio on Saturday night is that I've finally reached the point where I can find contentment in the moment, in the now. Restless and agitated by nature, I've always felt a yearning for something … something else or something more or something different. Recently, though, in the last year or so, that restless yearning has dissipated, replaced by simple contentment and a better ability to appreciate the moment.
This, I know, is a direct result of the practice of gratitude.
I've been counting gifts for two years now. I just passed #1,500, and I'm reaching the last wrinkled, worn pages of the journal I purchased on a whim, from a sale rack next to the prescription counter at Walgreen's.
This practice, this daily gift counting, has singlehandedly altered my attitude toward life. Gone is the glass-half-empty girl. And while I might not ever become a textbook optimist, I know I've changed. I notice gifts everywhere now – on the running trail, at the grocery store, in my own backyard. My eyes see. My brain records, spooling a ticker tape of gifts. I don't even write them all down. But I notice.
This past weekend, after years of searching, I finally realized I don't need to travel far and wide to discover my right place, my one true home. It's here. Right now. Under the faded umbrella. The goldfinch singing from the magnolia tree. The heady scent of lilac settling like a fragrant blanket over the whole backyard.
So tell me, do you have a true home, a right place, a favorite spot on earth? 
Sharing with Ann Voskamp's 1,000 gifts community: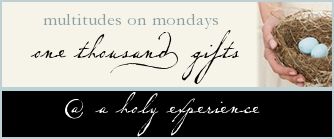 1490 first blooming lilac
1491 working on the couch when I'm sick
1492 pink petals on the pavement
1493 a soaking rain
1494 scent of lemon cake baking
1495 a boy who still wants to sleep in our bed
1496 single droplet of pinesap
1497 card from Sara
1498 Rowan's toes, peeking out from the comforter
1499 improvement for dad
1500 my backyard – my favorite place