I stand stock-still at the window, and it's hard, because I am a woman in motion, always wiping, scrubbing, neatening, organizing, folding, pacing. But I turn the faucet off, lean low against the sink with the sponge in my hand and wait, eyes fixed on the suspended globe outside.
I wait and I watch. And even though there are backpacks to stuff and lunch boxes to fill and crumbs to sweep into cupped palm, and even though the morning clock ticks toward departure and I haven't even put on mascara yet, I stand at the window and watch.
I hear her first even before I see her, because I've glanced down just a second at the sink full of juice glasses and coffee cups and half-eaten crusts of cinnamon raisin English muffins. It's the sound of wings I hear first through the open window. A gentle whir of wings beating furious, 90 times in a single second, they say.
And then the quiet pip-pipping, a delicate chirp as she drinks, needle-beak sipping orange sweet as wings whirl. Her back glimmers green, the color of polished malachite.
She's so close, I can almost touch that tiny, humming body, were it not for the window screen that separates us.
She doesn't linger. I blink and she's gone, hovering over the magenta zinnia and then zipping blurred toward cover of elm leaves. If I squint and lean close toward the window, I can just make her out, sitting regal on a branch, a Lilliputian queen.
It requires a bit of restraint, this motionless waiting. But oh, isn't it worth all the wait in the world to catch sight of such grandeur? God does great things before my eyes indeed. I simply need to stand still to see.
"Now then, stand still and see this great thing the Lord is about to do before your eyes."
1 Samuel 12:16
Over at Ann's place we're exploring how we practice faith in the day-to-day. Standing still to see is one such way for me…what about you? How do you practice faith in the day-to-day?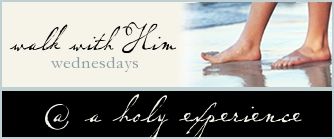 And linking with Emily, too, for Imperfect Prose: