I tend to think of the four weeks of Advent as a preparation for the arrival of Jesus on Christmas Day. And there's nothing wrong with that, of course. But my pastor made a good point yesterday morning when he mentioned that perhaps Advent should be a time in which we prepare ourselves not just for one day, December 25, but for the entire year. He suggested that we use these Advent weeks as a time to prepare for the arrival of Emmanuel and to ask ourselves how we will celebrate God with us, not just on one day, but on the remaining 364 days as well.
The word Christmas originally meant, literally, "Christ's mass." It is derived from the Middle English, Christemasse, and Old English, Cristes mæsse. "Cristes" is from the Greek Christos and "mæsse" is from Latin missa, meaning "holy mass." That's a complicated way of saying that Christmas means worship of Christ.
We don't know for sure which day Jesus was actually born. During the 4th century Christians chose December 25 as the day to formally celebrate Christ's birth, but the truth is, December 25 is just a day, one in 365. It's wonderful that we celebrate Jesus' birth on December 25, but it doesn't mean that we shouldn't offer him a Christmas – a "Christ's mass," a holy worship –every day, all year long.
When I think about what it might look like to celebrate Christmas every single day of the year I feel a bit weary – but that's largely because I associate Christmas with extra work (read: baking, decorating, shopping, wrapping, envelope-licking, socializing). Stripped of its commercialized trappings – all the obligations we tell ourselves we must fulfill in order celebrate Christmas –what's left?
Love. Joy. Worship. Serving. Rest.
Stripped to its essence, Christmas doesn't sound as overwhelming, does it?
So yesterday, with the sermon lingering in the back of my mind, I decided to embrace a little Christmas. Real Christmas.
Despite the fact that I had one hundred million things to do (read: laundry, snow shoveling, writing, baking, dusting, vacuuming – on Saturday Rowan had made a peanut-butter and birdseed sandwich for the birds…on the sunroom floor. Enough said?), the kids and I donned hats, mittens, winter jackets and snow pants, grabbed the sled and stepped into the glittering neighborhood to revel in winter's first snowfall.
I grabbed my camera, too, and as we walked up our street and down the alley, I stopped to photograph glinting icicles, snow-draped berries and frosted evergreens.
I suspect God delighted in the fact that I took the time to admire his majestic creation and slowed down long enough to gaze in astonishment at a single icicle forming drip by drip from a yellow leaf.
I suspect he delighted in the sight of an over-40 mom and her two squealing boys as we careened down a snowy alley on a plastic red sled.
I suspect God delighted in the fact that we celebrated his presence around us, with us and in us as we offered him a holy worship, three weeks to the day before Christmas.
"Prepare the way for the Lord's coming! Clear the road for him!" (Mark 1:3)
This year, how might you prepare for Christmas, not just on December 25 but all the year through?
::

Counting gifts with Ann Voskamp…
795. Playing Uno with Pepe, Meme and Rowan
796. Rowan waving from the top of the school stairs
797. New snail pets
798. Scent of vanilla Advent candles
799. New socks! (this is Brad's)
800. Icicles
801. First snow
802. The luxury of spending a sick day in bed
803. Alley sledding
804. Paint-by-numbers
805. Christmas every day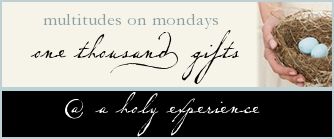 Playing with God at Laura's place:
Celebrating with the Soli Deo Gloria sisters at Jen's:
Welcome to the "Hear It on Sunday, Use It on Monday" community, a place where we share what we are hearing from God and his Word. 
If you're here for the first time, click
here
for more information. And if you are a new participant, would you leave me a comment or send me an email to tell me it's your first time, so I can be sure to stop by and say hello at your place?
Please include the Hear It, Use It button (grab the code over in the sidebar) or a link in your post, so your readers know where to find the community if they want to join in — thank you!
And if you want to tweet about the community, please use the #HearItUseIt hashtag

.