Only half-awake, I fill my mug with coffee, grab a pen, my notebook and the Bible, and pad across the cool tile to the French doors. Nebraska humidity, dense and heavy, hits me like a thick, moist curtain as I step out of air-conditioning and onto the back patio, the damp concrete cool under my bare feet.
It's still, save the warbling of the house finch and the crisp chirp of two chickadees, one in the white pine, the other answering from across the street. The sun glints like rhinestones through the sprinkler spray. I tuck my feet beneath me, brush an ant from the tabletop and open the Bible.
I read verses better at this early hour, more slowly, because I'm sleepy. And the boys stay tucked in their beds a bit later during the summer, letting me linger into a longer, slower rhythm. Later, as the sun slides above the picket fence, a boy or two might join me for breakfast.
It takes a few trips back and forth from the kitchen to the back patio: a second cup of coffee, toasted cinnamon raisin English muffins or bowls of Life, sliced strawberries in glass-footed bowls, white grape juice, silverware and napkins. But it's worth the extra effort.
The neighborhood yawns and stretches. Dogs bark, one joining another, an anthem to suburbia. Breakfast done, the boys now on to Mario Brothers and the Wii, I stack empty plates and glasses on top of the Bible, slide open the screen door and step into the cool house.
What's your favorite way to spend a slow summer morning?
Welcome to Graceful Summer, a new link-up community here on Fridays through the end of August.
We're sharing stories about the smaller, quieter moments of summer – will you share yours, too?
1. Write your post and link it up here on Fridays.
2. Visit someone else and leave a little comment love – you might get a new creatively quiet idea!
3. Please include the Graceful Summer button or a link in your post, so people can find us if they want to join in

.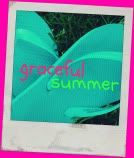 Click
here
to get Graceful in your email in-box.
Click
here
to "like" my Facebook Writer page. Thank you!