Summers and winters in Nebraska have one thing in common: extreme weather. During the winter, temperatures plummet below zero, and an arctic wind howls down from Manitoba, rattling the windows and forcing me to burrow under double quilts. The old metal storm windows are original to the house, and I swear on some nights I feel wisps of my hair blowing in the draft as I sit on the couch.


Summer comes with its own weather perils. In the last two weeks temperatures have seared past 100 degrees, and the wind blows dusty and dry up from Amarillo. The black handle to the storm door is too hot to touch, and I only make it halfway down the concrete driveway on bare feet before jumping onto the lawn. Tucked indoors in air-conditioned chill, the blinds drawn to keep out the glare, we don't see much of our neighbors during July and August.
These are the Monopoly days.
This is a game that can't be completed in anything less than three hours, at least at our house. There are times when a single game will span two or three days, pastel paper money in disheveled piles on the sunroom floor, plastic red hotels lining Marvin Gardens at St. Charles place. I can't turn on the ceiling fan for fear it will stir a whirling dervish of tens, twenties and fifties around the tile.

So I bet you're wondering what in the world Monopoly has to do with God? Maybe you're wondering that about most of these Graceful Summer Friday posts, in which I write about cutting flowers in the garden and eating breakfast on the back patio. It's true. Some of these stories don't even mention God or Jesus or faith. But let me tell you, they're all about God…because everything is about God.
Maybe you think that's a cop-out answer, and that Monopoly – a game rooted in acquisition and greed – can't possibly have anything to do with God, but consider this:

God is present when a dad sacrifices three hours of his afternoon to play a game (in my opinion, the most tedious game on Earth) with his son.
God is present in the gleeful triumph of a little boy who counts out the proper bills all on his own to purchase the Reading Railroad.
God is present when a family gathers around the game board (even the mother!), instead of gazing mindlessly at the computer screen or TV.
And then, of course, there's the coveted Get Out of Jail Free card, the one I pluck from the Community Chest just after I'd tap out six squares to land my tiny metal iron behind bars. As I hold up the card in the afternoon sun, Rowan and Brad groaning at my good fortune, I remember God's grace.

Which is, after all, the ultimate Get Out of Jail Free card.
Welcome to Graceful Summer, a link-up community here on Fridays through the end of August.
We're sharing stories about the smaller, quieter moments of summer – will you share yours, too?
1. Write a post about a quiet summer moment and link it up here on Fridays.
2. Visit someone else and leave a little comment love – you might get a new creatively quiet idea!
3. Please include the Graceful Summer button or a link in your post, so people can find us if they want to join in.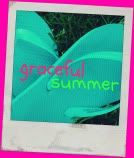 Click
here
to get Graceful in your email in-box.
Click
here
to "like" my Facebook Writer page. Thank you!