I stoop to double knot my sneaker before I step out the door into the blistering sun. Still kneeling on the kitchen floor, I glance up, and that's when I see the window, and beyond that, the garden gate and the goldenrod ablaze.
It stops me right there, that picture of ordinary perfection. Clean dishes stacked on the rack. Seven tomatoes ripening to red on the sill. My watch, left there when I stripped it from my wrist to do last night's dishes. A row of Lake Superior rocks, shaped like hearts, collected over the years by my sweet-hearted son.
An ordinary scene, an ordinary kitchen, an ordinary day.
But these? These are no ordinary gifts.
It's easy to miss it all, isn't it? If I hadn't stopped to tie my shoe before dashing out the door, I would have missed them, too, these ordinary extraordinary gifts, all laid out, picture-perfect, just for me.
That's usually the case. Truth be told, I focus much more on the "gets" of the future, rather than the gifts of now.
How can I get more readers?
How can I get more people to like my posts and my Facebook page?
How will I get people to buy my books?
How can I get my kids to listen better?
How can I get that basement renovation I think I need?
How can I get, get, get?
I worry more about what's happening tomorrow instead of appreciating what's unfurling right now, before my very eyes.
A focus on getting blinds me to God's giving. A focus on getting blinds me to the gifts God gives right here, right now.
The kitchen window. Those beautiful tomatoes all in a row, the red striped curtain, the garden gate and the goldenrod. This is the reminder I need right now, the reminder to be less preoccupied with getting, and more grateful for all God's giving.
I straighten up, shoes double-knotted, hair pulled back into a ponytail. I swig twice more from the water bottle, leave it on the kitchen counter, and then step onto the driveway, hot already in the morning sun, pulling the door closed with a click.
The goldenrod, straight and proud against the picket fence, waves in the breeze behind me.
"What I'm trying to do here is to get you to relax, to not be so preoccupied with getting, so you can respond to God's giving…Give your entire attention to what God is doing right now, and don't get worked up about what may or may not happen tomorrow. God will help you deal with whatever hard things come up when the time comes." (Matthew 6:30-34, Msg.)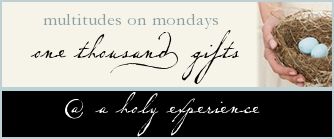 1595 Rowan's bowl of berries
1596 Cardinal wrestling with the piece of string
1597 Fuzzy yellow caterpillar on the running path
1598 A dad who brings the pet lizard to the emergency vet
1599 Frill the lizard feeling better
1600 Mirror note from Noah
1601 First hummingbird of the season
1602  Garden gate through the kitchen window
1603 Ripening tomatoes all in a row
1604 Goldenrod ablaze in the sun
1605 Morning light reflecting off the desk lamp