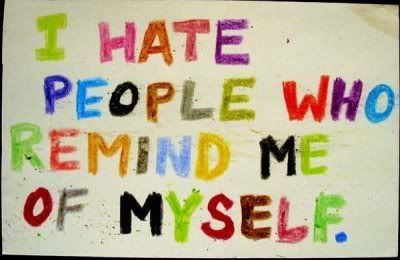 A few years ago I stumbled on a website called PostSecret. The premise is simple: participants anonymously divulge a secret on a homemade postcard and mail it in to the site, where they are posted online for the world to see. More than 500,000 secrets have been posted since the project was founded in 2005.
On the limo ride to the hotel after I made my vows to my husband, I texted my boyfriend "I love you."
I want to be a super hero. I would use my power to take away your pain.
Since my affair, I don't think God listens to my prayers.
I judge you by the news channel you pick to watch at breakfast.
In 1959, when I was 11, I wrote every obscenity I had ever heard in the wet plaster of a house under construction.
PostSecret founder Frank Warren calls the website a "community art project," but it's clearly much more than that. PostSecret is a modern-day confessional of sorts, where people can reveal their deepest, darkest secrets in a safe place, a place where no one will judge or condemn (at least out loud), a place where they can freely admit who they are, flaws and all.
Warren claims that the postcards inspire those who read them, help to heal those who write them, offer hope to people who identify with a stranger's secret, and create an anonymous community of acceptance.
So here's my question: isn't that what the Church is supposed to be?  A place where we can speak the truth about ourselves without fear of condemnation and judgment? A place where we will be accepted and loved, no matter our past or present, no matter how egregious our sins? A place where we can confess and ask for forgiveness? A place where we can find community, hope and above all, love?
"If you stick with this, living out what I tell you, you are my disciples for sure," Jesus told his followers. "Then you will experience for yourselves the truth, and the truth will free you." (John 8:31-32, Msg.)
Jesus isn't talking about a PostSecret kind of confession here; he's not talking about the liberation that comes with telling the truth. He's talking about truth as love, forgiveness, acceptance, redemption and grace. Jesus desires us to live free in his truth, in his love.
I believe this.  I believe in this truth, because I have experienced it personally. I know Jesus loves me. I know he forgives my worst transgressions and gives me grace, day in and day out. I have received the gift of real truth.
But I'm afraid, given what's displayed on PostSecret, that I am in the minority. And I'm afraid people are missing out on the real truth, the truth of Jesus' unconditional love, because the Church itself often stands in their way.
After all, how will people ever hear the message of Jesus' truth if they don't first feel loved and accepted enough to step through the church doors?
I am saddened by the fact that half a million people have turned to PostSecret as perhaps their only viable outlet for expressing their heart-heavy burdens. But I get it. The door is always open at PostSecret. PostSecret doesn't judge. It doesn't condemn. Everyone is welcome. PostSecret is safe. And I don't think we can always say the same about the Church.
There is good news here, there is.
We. Can. Change. This. We can be the people who love and accept. We can be the people who welcome and embrace. We can be the Church as Jesus intended. Jesus' truth has the power to set people free from any PostSecret burden they carry. And that truth is available to everyone, no exceptions, no exclusions. But first, we have to be the kind of people who won't stand in the way.
Questions for Reflection:
What's one small way you can open your heart to someone, perhaps even someone who doesn't attend church, to let them know that you are safe, trustworthy and nonjudgmental? In other words, how can you be the Church to someone else who needs to hear Jesus' message of unconditional love and acceptance?
::
Welcome to the Hear It on Sunday, Use It on Monday community, a place where we share what we are hearing from God and his Word each week. If you're here for the first time, click here for more information.
Please include the Hear It, Use It button (grab the code below) or a link in your post, so your readers know where to find the community if they want to join in — thank you!
Please also try to visit and leave some friendly encouragement in the comment box of at least one other #HearItUseIt participant. And if you want to tweet about the community, please use the #HearItUseIt hashtag.
Thank you — I am so grateful that you are here!
 <a border="0″ href="https://michellederusha.com/" target="_blank"> <img src="http://i867.photobucket.com/albums/ab239/mderusha/HearItUseItImage-1.jpg"/></a>