Hello, friends. Just a little note to say that I am taking a bit of a break this week for Thanksgiving. The Hear It on Sunday, Use It on Monday community will return next Monday. In the meantime, may you enjoy this week of giving thanks with your loved ones, may you experience God's presence in your everyday and may you enjoy many kinds of pie. 

Thank you for being…you!

I love this Wendell Berry poem, and it feels Novemberish to me…so I thought I'd include it here.
The Wild Geese
Horseback on Sunday morning,
harvest over, we taste persimmon
and wild grape, sharp sweet
of summer's end. In time's maze
over the fall fields, we name names
that went west from here, names
that rest on graves. We open
a persimmon seed to find the tree
that stands in promise,
pale, in the seed's marrow.
Geese appear high over us,
pass, and the sky closes. Abandon,
as in love or sleep, holds
them to their way, clear,
in the ancient faith: what we need
is here. And we pray, not
for new earth or heaven, but to be
quiet in heart, and in eye
clear. What we need is here.
And just in case you're wondering…why yes I am still keeping a gratitude list!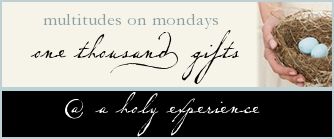 1265 Great Grandma Hilma's donut recipe
1266 Hairdresser attentively and gently cutting the elderly man's hair
1267 Rowan snuggling in the morning in front of the heat grate
1268 Osage oranges on the ground
1269 Afternoon sunlight on the dishrack
1270 Pumpkin cornbread
1271 Peppermint mochas with Noah
1275 Busy husband fixing things
Peace and joy, friends! See you next week…
Click here to get Graceful in your email in-box. Click here to "like" my Facebook Writer page. Thank you!