I got the idea for this 29 Days of Quiet series back in mid-December, just after my father-in-law was diagnosed with terminal lung cancer. It started as a survival mechanism. I simply had to shut down, to be quiet, to survive.
I felt guilty about it at first. Friends would call or email, graciously offering to come by with dinner or with suggestions for activities we could do together with the kids. But I couldn't bring myself to say yes. The pre-Christmas frenzy, with its garish lights and perky music and glittering decorations made me angry and sad. All that joy was too much. I simply wanted to hunker down.
And so that's exactly what I did. I let myself off the hook entirely, politely said "no" to many of the offers that came my way, and spent most evenings sitting on the couch, in the dark, with only the Christmas lights lit and candles flickering on the coffee table.
What I need to tell you is this: sometimes it's okay to hunker down. Sometimes it's okay to say no thank you, I can't right now. Sometimes it's okay, even imperative, to opt out…even in the midst of Christmas, even during a time when we are supposed to be joyful. Sometimes God tells us when it's time to stop and rest, and it's our job to listen and heed.
I was reminded of this last week when I read the February 16 devotion from Jesus Calling:
Thank me for the conditions that are requiring you to be still. Do not spoil these quiet hours by wishing them away, waiting impatiently to be active again. Limitations can be liberating when your strongest desire is living close to me.
Don't get me wrong. I'm not saying I'm glad that my father-in-law's illness allowed this opportunity for quiet. And I certainly did wish those quiet hours away, praying that my father-in-law would miraculously be healed. Yet I also acknowledge that there was a gift hidden deep under all the extraneous that I stripped from my life – the gift of quietly sitting with Him.
Thank you for accompanying me on this much-needed journey into quiet. I really do hope you found some benefit in it as well.

Click here to read all the posts in the series.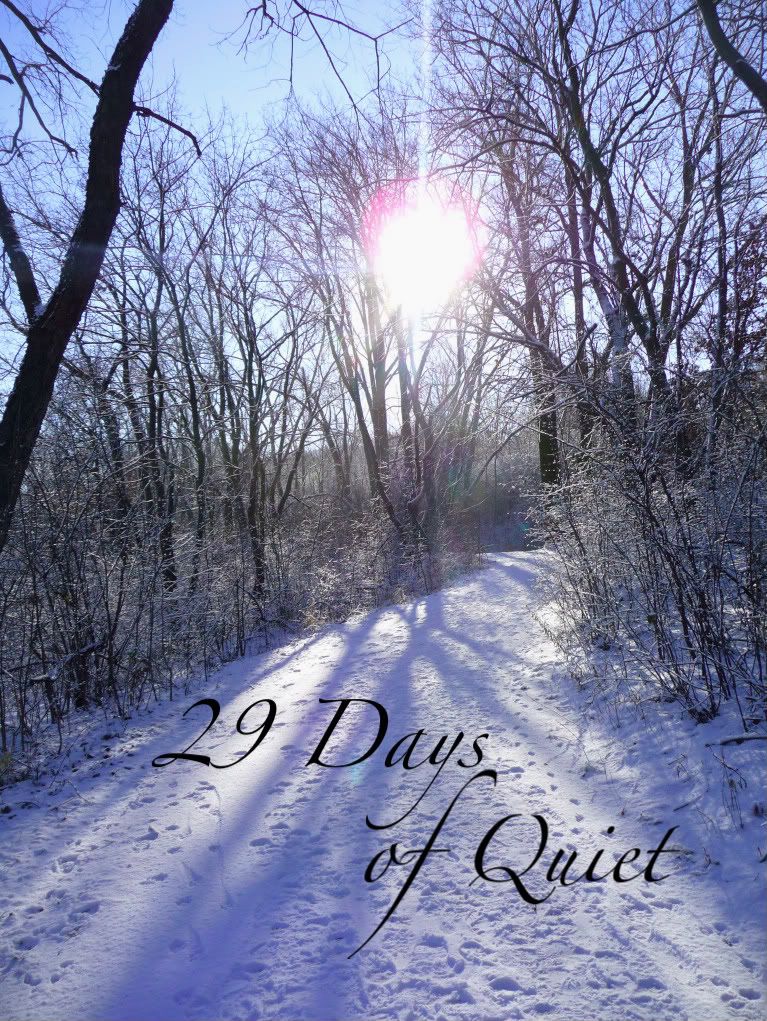 And linking with Ann Voskamp today, in her Lenten series on fasting…because saying no to activity and yes to quiet has been a journey in fasting for me.