Autumn masquerades as summer in scorching sun and dry heat. But I'm not fooled. Behind that tired, bedraggled costume, I see she has arrived and is waiting, patiently.
In the quiet of longer, slower days, bug-hunting boys now tucked into classrooms.
In honey locust leaves twirling like helicopter seeds, raining a golden sheet across the lawn.
In the grackle with the indigo iridescent head, cackling from the elm.

In the squirrel, crouching, one acorn clenched in its claws, another in its cheek.
 
In the carpet of brown pine needles pricking the bottoms of my feet.
In stripped-bare river birch branches and magnolia tipped with copper.
In sunflowers, dipping chins.

In open windows, misty veil over green, mornings draped in cool.

In scarlet tomatoes, butternut squash on tangled vines, soil turned, unearthed potatoes.

In one crisp leaf circling the fountain, a blanket crocheted across hammock cloth.
Autumn waits patiently.
She slips in on tiptoes, so quiet I hardly notice.

But when I open my eyes, I see she's nearly here.
How are you ushering in the change of seasons?

: :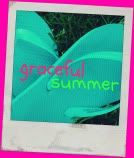 The end of summer signals the end of Graceful Summer here. I have so cherished these Fridays! Thank you for helping me to slow down this summer, to breathe in the small moments and appreciate the many, many gifts. To all of you who participated in the community link-up, thank you. I hope you, too, found a bit of peace.
The last link-up for Graceful Summer: