"If we are lucky," writes Anne Lamott, "gratitude becomes a habit."
I'm reading Lamott's latest book, Help, Thanks, Wow, on the screened porch of my childhood home. It's raining, gently, the scent of water on hot pavement wafting off the driveway.  I used to spend hours out here as a kid, my feet tucked into the vinyl floral cushion on the aluminum rocking chair, The Secret Garden or The Borrowers or Where the Red Fern Grows spread open in my lap.
In the next room, my dad sleeps under the barely revolving fan in the bedroom,  a pillow cushioning the raw incision in his chest.
"I've got a blog idea for you," he'd said to me two days earlier, wincing as he pulled the table closer to the reclining chair. I had smiled at the way my dad pronounced "blog," like "blaahg."
He's been through the ringer these last few months, in and out of the hospital four times. He sat pale and haggard in his hospital room, machines beeping, tubes spiraling, the tray table between us. A curtain separated him from his moaning roommate.
"It's about this gratitude thing you're always talking about," he said, leaning heavily on the table and looking me straight in the eye. "I'm not sure it works."
My dad admitted he'd been trying. Trying to focus on the positive, trying to be grateful. He said he looked at the patients around him, patients far sicker than he is, and he told himself it could be worse.
I nodded. "It's true," I said. "You could be on a vent or something. At least you can sit in the lobby and have a coffee and watch people come and go." My dad took the elevator down from the sixth floor to the main entrance, pushing his IV pole ahead of him. He sat in the leather armchair near the front desk and watched drama unfold and life stream in and out of the hospital.
"It doesn't work though," he said, shaking his head. "It's one thing to be grateful on a regular day, but when you're sick? When you feel lousy and are suffering and are stuck in here?" He tipped his head toward the nurses at the station in the hallway. "It doesn't work," he said. "Gratitude doesn't work in the middle of suffering."
I sipped my coffee, looked down at my half-eaten blueberry muffin on the tray. I didn't know what to say. Because really? I've never been in these shoes. I don't know what it's like to be tethered to a catheter and an IV pole and a beeping machine. I don't know what it's like to spend day after day in the ICU, poked and prodded with scalpels and needles, x-rays at 5 a.m., the blood pressure cuff three times every night. Would I be grateful, given similar circumstances?
If we are lucky, gratitude becomes a habit.
I read Anne Lamott's words out on the screened porch. My dad is home now, sleeping in the next room. I ponder his declaration. And I wonder if maybe Anne Lamott isn't quite right.
I wonder if maybe gratitude doesn't become habit out of luck, but out of practice.
Maybe practicing gratitude in the everyday mundane paves the way to gratitude in the dramatic, in the wild untamed, in the out-of-control, in the fear-full times. Maybe it's not just gratitude itself, but the practice of gratitude in the day-in and day-out that makes the difference.
Practicing gratitude until it becomes habit, second-nature — the habit of noticing, seeing, appreciating, giving thanks.
Practicing gratitude until it becomes habit, second-nature — so that when the world tips topsy-turvy, dizzyingly off-balance, we have the foundation of gratitude already in place.
Maybe making gratitude a daily habit is the way to find gratitude when the going gets tough, when our life spins out of control, when suffering descends.
Honestly? I don't know for sure. I still don't have any clear answers for my dad about how to find gratitude in suffering.  All I have right now is the habit of gratitude, a habit I'm hoping and praying will hold up when times get tough.
That's why I'm going to keep listing gift after gift, these daily miracles, these small joys — practicing the habit of gratitude line after line after line on wrinkled notebook pages.
I'm going to trust that the habit of gratitude will sustain me, even when I can't sustain myself.
With Ann Voskamp's Monday 1,000 Gifts Community: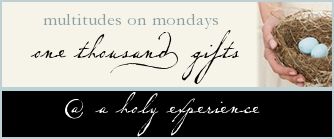 1575 two men chatting on the stone wall
1576 yellow leaves swirling onto the running path
1577 a gentle rain while I run
1578 iced coffee on the back patio
1579 and a husband who makes it!
1580 Angry Trout chowder
1581 British soccer coaches calling Rowan "Rowanski"
1582 Rowan's delight at the fair
1583 petting the goats and the llama
1584 2:30 a.m. meteor excursion
1585 showdown between Brad and the gorilla